Nick Donaldson
- my time with Jelo
The beginning…
I met Jelo and Ari and Shua at a party in the spring of 1997. We immediately realized we had found like minds. We started arranging to meet up on a regular basis at parties all over the bay area and slowly our crew grew as we met more and more cool people, including my lovely wife Rebecca who I met literally weeks after Jelo.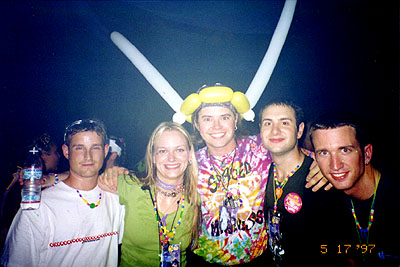 Jelo with Matt, Beth, Ari and myself, 5/17/97, shortly after we met… man, that was a fun party. Check out our laminates! Sweet.


The cool purple laminate was actually designed by Ari…
I immediately bonded with Jeff in particular as a fellow hacker, gadget geek, info freak and general all around silver backed alpha geek. He was my kinda geek - he loved figuring out cool new tech, exploring unknown situations and having a lot of fun doing it. Incredibly well read in every field you could think of, he was a one-stop reference for any question on any subject before we had google on our mobile phones…
And I can credit him with making me come out on the single most important night of my life, shortly after we met - the night that I found my beautiful wife Rebecca. I really wanted to stay home but I was hounded, harassed, nay, nagged by Jelo and Ed to come on out and party… and then there she was. We have been inseparable ever since that night. Thanks Jelo.
He was also the catalyst for the Burning Man camp we created when he gave me a Lite Brite for my birthday… before that I had never even seen a Lite Brite! But that gift gave me the idea for the giant Lite Brite… and the rest is history.
In the next few years we spent a lot of time hanging out, geeking together, exploring together, dancing, eating, and laughing together, we grew together, and marveled as a community of warm, loving and intelligent like souls grew around us. He found his amazing mate Tiffany and Rebecca and I watched with joy as their romance blossomed into a perfectly matched marriage. We were sad when they moved to LA but loved visiting and being visited. Still harder was their move to Oz but we were so looking forward to visiting them there… alas it was not to be.
Bec and I were so excited when he came to visit and stayed with us in April, and it was so great getting to see him and spend so much time with him. I was quite chuffed to find out that he and I had the exact same smart phone. He delighted our kids with the cutest cuddly koala and kangaroo and had a lot of fun playing with them. We had such a great weekend. I hadn't seen him in well over a year but as always with Jelo we were immediately talking code, nanotech and travel. Good times.
We shared over a decade together and it wasn't enough. I miss you, Jelo.